About Us
Our History of Ice Cream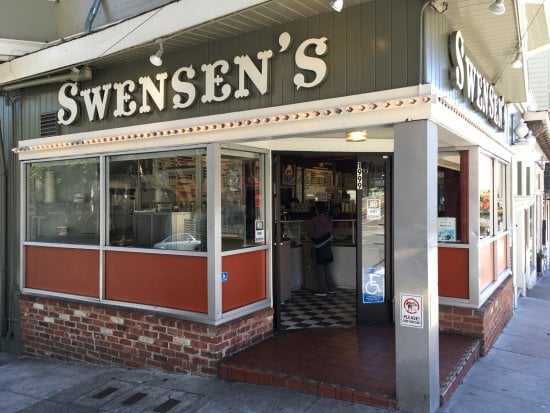 Swensen's is located on the corner of Union and Hyde in San Francisco, CA. We opened our doors in 1948 and today, still offer ice cream from this location. Founder Earle Swensen always used the highest-quality ingredients in his ice cream, and continually adjusted his recipes until they were perfect. We're still using these recipes, and still abiding by Earle's commitment to quality ingredients.
Richard Campana, the current owner of Swensen's, started working here when he was fifteen years old. Richard made ice cream for over fifty years, and Earle entrusted him to continue Swensen's legacy, which he has. Richard is now retired, but his daughter and son-in-law, Diane and Jim, have taken over the daily operations to ensure the legacy lives on. Jim is now making the ice cream for Swensen's and he could not have had a better teacher than Richard.
Original Recipe, Fashionable Ice Cream
There are a lot of dessert shops in San Francisco, CA, but few of them still make their ice cream in-house. Swensen's still uses the same recipes with the same high-quality ingredients that we did when we opened our doors in 1948, and that will never change. We also offer handmade waffle cones, too! When you stop in for ice cream, get ready to enjoy a treat that's made fresh, every time.
For more information about Swensen's ice cream or to place an order for bulk quantities in San Francisco, CA, please contact us today at 415-775-6818, or check out our menu of classic ice cream flavors and milkshakes.